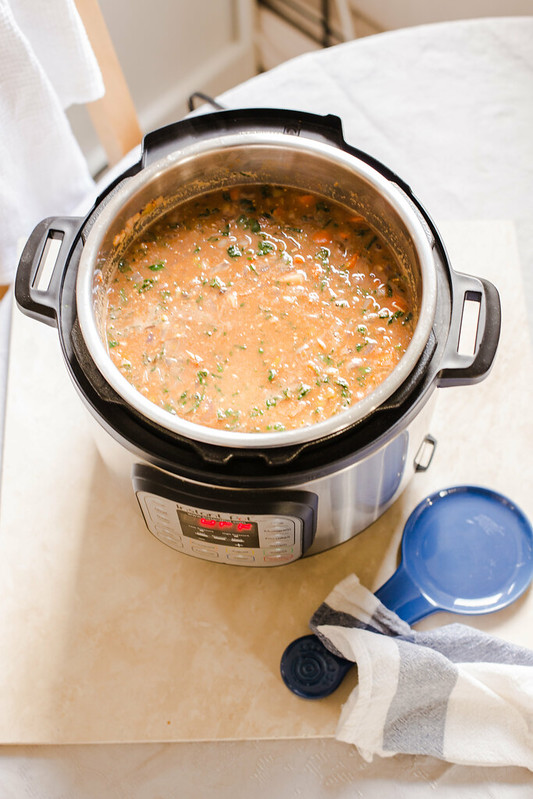 I learned about the Southern (US) tradition of eating black-eyed peas on New Year's for luck, a long time ago from an old friend I used to work with. She would host these big lunches on New Year's Day complete with champagne, mimosas and revelry.
At the heart of the celebrations was the large stockpot of black-eyed pea soup bubbling away on the stove. Those gatherings remain some of my favourite New Year's memories to this day. Since it involves good food and optimism, we've borrowed this tradition of eating black-eyed peas on New Year's, and the whole month of January for good measure.
While black-eyed pea remains one of my favourite beans, this Instant Pot black-eyed pea soup is truly my sister Pearlsa's soup. She's been making variations of this soup on New Year's for a few years now.
Chopping and sautéing vegetables for this soup is woven into our New Year's tradition; we put on music, drink mimosas with leftover Christmas cookies and gather around our small kitchen chatting away while she cooks.
We leave the soup simmering on the stove on low, and go on our long New Year's Day walk. "This allows the flavours to marry", Pearlsa tells us.
For convenience, we switched to making the soup in the Instant Pot (or Insta Pot, as we call it in our home). When we got the Instant Pot a few years ago (in one of those crazy Black Friday sales), it was mostly to replace our rice cooker but it's become expedient for creating quick tasty meals.
This is a hearty soup, plentiful and packed with lots of vegetables and yet easy to cook for a small crowd. It comes together in no time; we use the Instant Pot's Sauté function to precook the vegetables to coax out the flavours first, then dump the remaining ingredients in and let the machine do the rest of the work.
Every single element of this soup, though modest, is amazing, from the rich velvety beans to the warm smoky spices, this soup wraps you in cozy comfort.
I should mention that it is not necessary to make this soup in the Instant Pot; we've made it on stovetop a few times. I like the simplicity of setting it to cook in the Instant Pot and going on a 2-hour walk; it switches to warm when the cook function is complete.
Now, a few notes on making this soup… if you cook your own beans save the liquid from the cooked beans and use it in the soup for stock. We blend a bit of ginger, garlic, pepper and scraps from the rest of the vegetables we chopped and add it to the soup. This is optional, but it acts as a thickener and adds more flavour and warmth to the soup. A splash of red wine adds acidity, which brightens the flavours in the soup. If you don't want to use wine, a squeeze of lemon when the soup is done should do the trick.
Instant Pot Black-Eyed Pea Soup
Additional Time:
15 minutes
Total Time:
1 hour
15 minutes
Delicious flavour-packed black-eyed pea soup with kale, carrots and sweet potatoes; save time and make this simple recipe in the Instant Pot.
Ingredients
1 tablespoon olive oil
1 onion, diced
1 leek, diced
1-2 carrots, diced
1 small fennel, diced
1 clove garlic, finely chopped
1 cup cubed sweet potatoes
2 cups cooked black-eyed peas (from about 3/4 cup dried beans)
3 cups vegetable stock (if cooking beans yourself, use liquid from cooked beans for stock)
1 cup red wine (optional)
1 tablespoon smoked paprika
1 tablespoon ground coriander
1 teaspoon cumin
1 teaspoon thyme
1 28 oz. can crushed tomatoes (we used fire roasted tomatoes)
2 cups packed roughly chopped kale
Salt and pepper, to taste
Vegetables to blend – optional:
Thumb sized fresh ginger root, peeled and chopped
1 – 2 habanero or cayenne peppers or milder alternative like aji dulce, serrano or jalapeño
2 garlic cloves
Ends from onion, leek, carrot and fennel (what is left over after dicing)
Splash of vegetable stock
Instructions
Start with the blended vegetable mix (If using): In a blender, toss ginger, pepper, garlic and scraps from the onions, leek, carrot and fennel together and blend until smooth. Set aside
Turn on your Instant Pot and select the "Sauté" setting.
Add olive oil, allow to heat for 1 minute, then add onions and sauté until softened.
Add leeks and fennel; sauté for an additional 2-3 minutes
Add garlic and blended vegetable mixture if using
Add sweet potatoes and sauté for about 4 minutes
Add coriander, cumin and sauté for about 2 – 3 minutes
Add 1 cup red wine, stir and deglaze, then add tomatoes
Add the cooked black-eyed peas, vegetable stock, smoked paprika, and thyme. Stir together
Stir in kale and season with salt and pepper to taste
Close Instant Pot with lid and turn Vent knob to "Sealing"
Set to "Soup" setting, adjust the cooking time for 15 minutes and the pressure to Medium
Once cook time is complete, allow Instant Pot to naturally depressurize for 10 – 15 before quick releasing any remaining pressure (turn Vent knob to "Venting")
Stir soup, serve and enjoy!
Nutrition Information:
Yield:

12
Serving Size:

2 cups
Amount Per Serving:
Calories:

127
Total Fat:

1.7g
Saturated Fat:

0.2g
Sodium:

225mg
Carbohydrates:

21g
Fiber:

5.5g
Sugar:

6.9g
Protein:

5.5g
The nutritional labels are a product of online calculators such as verywellfit. Even though I try to provide accurate nutritional information to the best of my ability, these figures should still be considered estimates.
[Tweet "Save time! Make this delicious flavour-packed black-eyed pea soup with kale and sweet potatoes in your #instantpot #vegan #glutenfree "]