Here is yet another recipe inspired by a meal I ate at some restaurant.
Two years ago, I had a vegetarian bolognese at Jamie's Italian at the Westfield in Shepherd's Bush (London). A recommendation from our waiter, this meatless Bolognese was a memorable saucy melange of lentils, mushrooms and pasta topped with crispy breadcrumbs.
I deliberated making a wholly plant-based bolognese for months afterwards, and whether I could even call it a bolognese pasta without the classic meat-based ragù.
In the end, after playing around with a few ingredients and recipes, this mushroom bolognese with chickpea crumble was born, and I use the word bolognese very loosely here.
It's a hearty sauce; heavy and intense to coat thick ribbons of pasta, and a big bold taste that is oh so satisfying. It starts with a sofrito; a base of onion, celery, carrots, peppers and garlic sautéed in olive oil, we add the mushrooms just when the mix gets softened and fragrant.
I use whatever mushrooms I find at the market, any mushroom with a meaty texture when cooked, like cremini, portobello, shiitake, porcini etc. will work for that full-bodied flavour and feel. After the mushrooms go in, a splash of red wine follows for acidity and to boost the umami flavours in the sauce.
I use two types of tomatoes in the sauce, canned crushed (or diced) tomatoes and tomato paste – I like the sauce tomatoey and creamy without having to add (non-dairy) milk, I add a cup of "pasta water" as well and finish things off with some aromatics and seasoning. It smells amazing while it's simmering away.
The chickpea crumble was a bit of an afterthought, but I'm so glad it's a part of this ensemble. Initially I'd wanted to add chickpea pieces to the sauce, but it didn't quite work out. Then I saw this chickpea crumble, made it and fell so madly in love, I wanted to sprinkle it over every pasta dish I made.
A handy garnish to have around, it adds protein and a crunchy element to the pasta.
It's perfect for jazzing up pasta and rice dishes, salads, roasted veggies, soups and many other dishes. Also, feel free to use whatever nut and spice combination you want or have available.
I might tweak this recipe one day, perhaps use lentils and a little coconut milk and spoon it over polenta, but for now I love this dish, it's such a comforting feast for cold dark rainy days.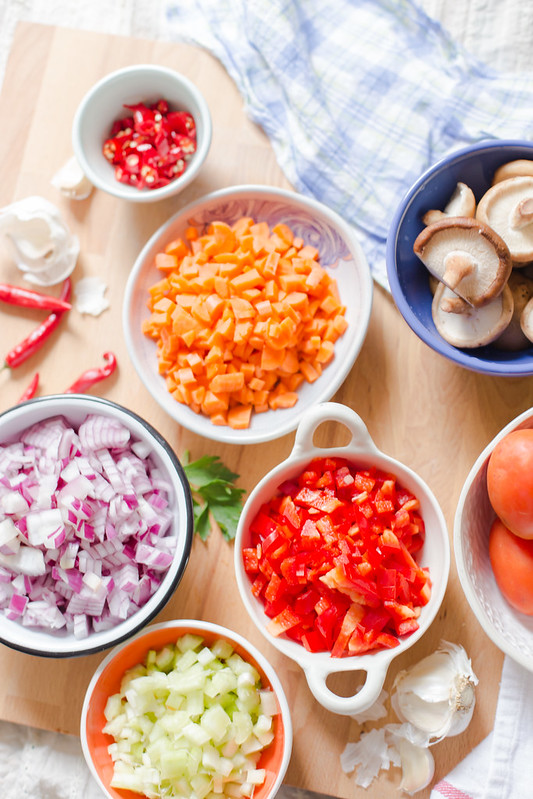 Chickpea Crumble
2017-11-28 14:49:53
Tasty, protein-packed savoury crispy crumble perfect, for jazzing up a myriad of dishes
INGREDIENTS
1 cup cooked chickpeas
1 teaspoon olive oil
Pinch of salt and freshly ground black pepper
1/2 cup raw walnuts
1 tablespoon nutritional yeast
1/2 teaspoon garlic powder
1/2 teaspoon za'atar or freshly ground black pepper, optional
1/2 teaspoon lemon zest
1/4 teaspoon crushed red pepper flakes
Salt to taste
DIRECTIONS
Preheat oven to 350 degrees F. and line a baking sheet with parchment paper
Spread chickpea on baking sheet and toss with olive oil, salt and pepper
Roast in oven until slightly browned, 15 – 20 minutes, stir once halfway through
Remove from oven, add walnuts and then roast again for another 5 – 10 minutes, or until walnuts are browned and fragrant
Allow chickpea and nuts to cool completely, then combine with nutritional yeast, garlic powder, za'atar, lemon zest, pepper flakes and salt in a food processor
Pulse until mixture is coarsely chopped and crumbly, about 15 seconds
Enjoy!
the Whinery by Elsa Brobbey https://elsbro.com/blog/
Mushroom Bolognese with Chickpea Crumble
2017-11-28 15:03:23
A comforting and delicious meatless riff on traditional Bolognese, it's hearty, rich and flavourful with a crispy chickpea topping.
INGREDIENTS
16oz dry spaghetti (I use a flat-ribbon pasta like pappardelle or tagliatelle)
3 tablespoons olive oil
1 large onion, diced
2 stalks celery, diced
2 medium-sized carrots, diced
1 red bell pepper, diced
1 – 2 chili peppers, diced (optional)
3 garlic cloves, minced
1 1/2 lbs mushrooms, finely chopped
1 cup red wine
2 tablespoons tomato paste
1 28oz can crushed tomatoes (about 3 cups)
1/2 cup pasta water or vegetable stock, plus more for thinning out pasta if preferred
1 tablespoon dried herbs or Italian seasoning (I use a mix of thyme, basil, rosemary and oregano)
Salt or to taste
1 tablespoon chopped parsley
Chickpea crumble
Cook Pasta
Cook pasta in a large pot of generously-salted water until el dente, according to package instructions.
Drain, set aside, and reserve about 1 cup or more of the pasta's cooking liquid (pasta water)
Make sauce
Heat olive over medium heat in a large saucepan or skillet
Add onions, celery and carrots, sauté until fragrant, then add bell and chili peppers and continue cooking until vegetables soften, 3 - 5 minutes
Add garlic and mushrooms and sauté for 2 – 3 minutes, then pour in wine and cook for another 3 – 5 minutes until mushrooms are softened and cooked through, and wine has evaporated
Stir tomato paste, add diced tomatoes, 1/2 cup pasta water, dried herbs, season with salt and stir to combine, let mixture cook until it comes to a simmer, then reduce heat cover and cook for 15 – 20 minutes, as sauce slightly reduces, stir occasionally
Taste, and season with extra salt, pepper and/or dried herbs if needed.
Combine sauce with pasta and toss to coat, if it's too thick, add more pasta water (a little at a time) as needed to loosen sauce and coat pasta
Stir in chopped parsley, and serve topped with chickpea crumble
Enjoy!
the Whinery by Elsa Brobbey https://elsbro.com/blog/
[Tweet " A comforting and delicious meatless riff on traditional #bolognese, it's hearty, rich and flavourful with a crispy chickpea topping. #vegan "]