I learnt about turmeric when I was a kid from our neighbour downstairs.
Everyone called him 'Seaman' because he worked away at sea for months at a time, he was always relaying some story or other about his time away and the cities he visited.
He seemed to know everything, but not in a show-off kind of way. The adults probably thought he was a little eccentric. Once, he had me go grab my sister's hymnbook so that his daughter, who was one of my best friends, and I could sing Mine Eyes Have Seen the Glory while he read Grapes of Wrath because he said the book got its title from the song
He drank turmeric tea in the mornings; claiming it was his elixir and the reason why he never got sick.
He grew his own turmeric on a small patch of land covered with lush broad leaves, and would pull out little dirt caked tubers of turmeric from the ground. That, he said, was all the medicine he ever needed.
It took me a few years to believe in the magic of turmeric, but It turns out the seaman was on to something after all.
Research suggests that turmeric could possibly improve your life dramatically.
It appears that the active ingredient found in turmeric, curcumin, is one of nature's most potent drugs. It's an antioxidant with anti-inflammatory properties that aids in fighting and preventing certain illness including some cancers and depression.
Turmeric is an easy spice to love; it's colourful, warm and mild. It smells like hints of ginger and orange zest, and has an earthy bitter peppery taste.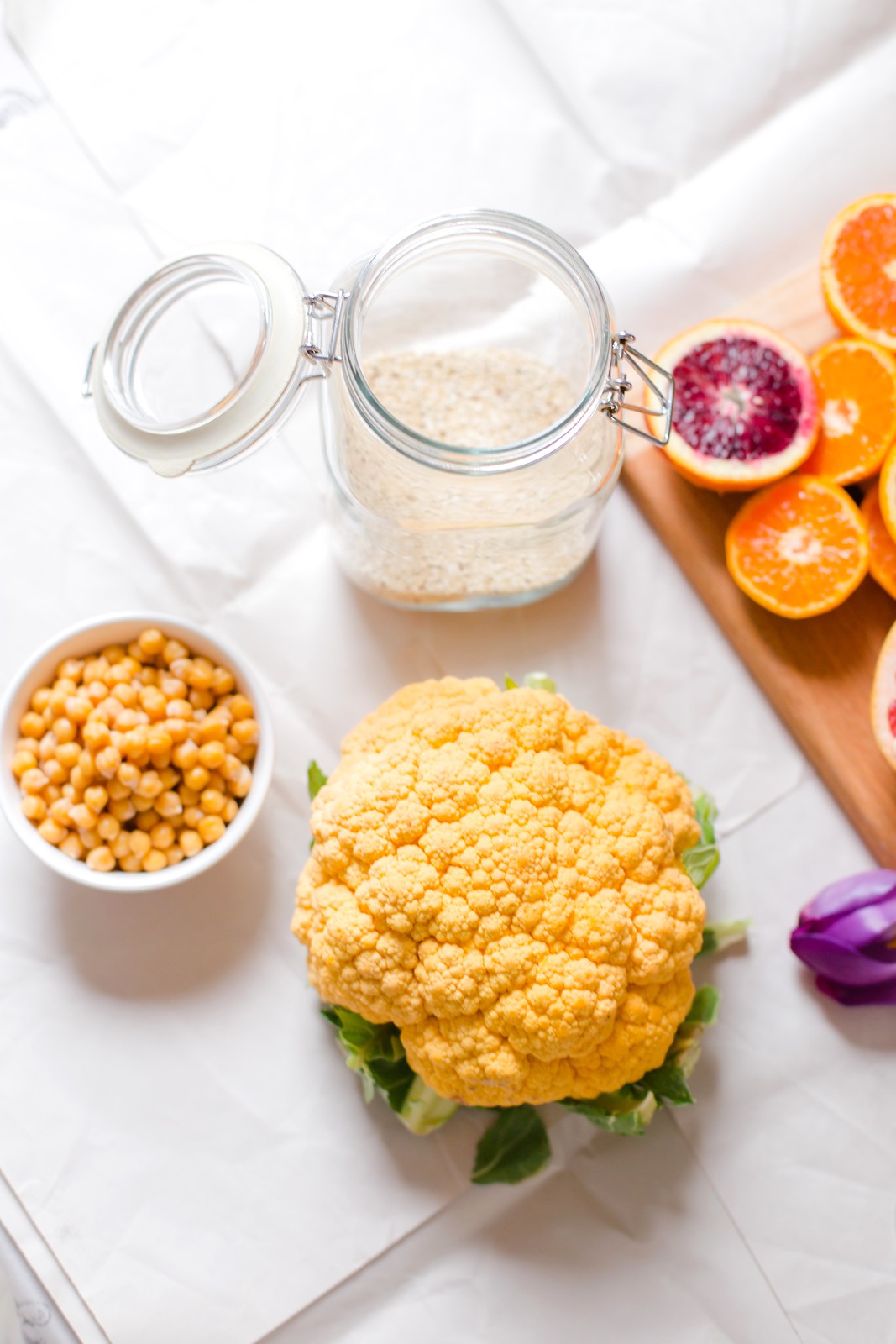 It's mild enough to be easily incorporated into recipes as long as you don't mind the colour. I've used it in both sweet and savoury dishes.
We found orange cauliflower at the market a few weeks ago and totally fell in love with them; I find coloured cauliflower intriguing and I can't pass them up.
I feel like turmeric and yellow cauliflower were perhaps made for each other?
I imagined a warm tasty cauliflower salad with zesty citrusy vinaigrette, and then I found the recipe for this turmeric roasted cauliflower, chickpea and quinoa. I tweaked the recipe a bit, but it was almost like I'd wished for.
Cauliflower and chickpea make a hearty and healthy pair, and the added quinoa makes it a complete meal.
Turmeric and the citrus flavours in the vinaigrette brighten the salad, making for a truly delightful combination.
[Tweet "A warm and flavourful roasted cauliflower, chickpea and quinoa salad with zesty turmeric dressing. #vegan"]
Turmeric Roasted Cauliflower, Chickpeas and Quinoa
2015-04-01 19:34:13
A warm and flavourful roasted cauliflower, chickpea and quinoa mix with zesty turmeric dressing.
For quinoa
1/2 cup quinoa
3/4 cup vegetable broth
1/2 teaspoon salt (omit or use less if using broth with sodium)
For dressing
2 teaspoons maple syrup or honey
2 tablespoons fresh squeezed orange juice
2 tablespoons lemon juice
3 tablespoons olive oil
1 garlic clove, minced
2 teaspoons ground turmeric
1/4 - 1/2 teaspoon red pepper flakes
1/4 teaspoon kosher salt
For cauliflower and chickpeas
I head of cauliflower, cut into florets
2 – 3 cups cooked chickpeas (about 2 15oz can chickpeas)
3 tablespoons extra virgin olive oil
1 teaspoon garlic powder
1 teaspoon ground cumin
1/2 teaspoon ground turmeric
1/2 – 1 teaspoons cayenne pepper
Kosher salt to taste
Cook quinoa
Rinse quinoa thoroughly, drain and add to a saucepan, add broth (or water) and salt
Cover, bring to a boil on medium heat, then lower heat and let it simmer until cooked and tender, and all the liquid is absorbed, fluff with a fork when done and set aside
Alternatively, you can cook quinoa in a rice cooker by adding rinsed quinoa, broth (or water), and salt to rice cooker, stir and set to cook per the machine's instructions. Fluff with a fork when machine shuts off
Make dressing
In a small bowl, whisk maple syrup, orange juice, lemon juice together
Drizzle in olive oil and whisk to emulsify
Stir in garlic, turmeric, pepper flakes and salt
Make cauliflower and chickpeas
Preheat the oven to 400 degrees F., and line a large rimmed baking sheet with foil and oil lightly
Combine cauliflower and chickpeas in a large bowl
Whisk olive oil, garlic powder, cumin, turmeric, cayenne and salt together in a small bowl
Pour mixture over cauliflower and chickpea and toss together to coat completely
Place cauliflower and chickpeas in a single layer on baking sheet
Roast in oven for 30 – 35 minutes until cauliflower is tender and browned
Serve warm with quinoa and a generous pour of dressing.
Enjoy!
Adapted from Mason Jar Salads
the Whinery by Elsa Brobbey http://elsbro.com/blog/